Let Adah's Thornes protect you against negativity! This sticker is designed to reduce and eliminate any negative vibes, while adding a playful touch of culture to your items!
COPYRIGHT © 2020- ALL RIGHTS RESERVED. Unauthorized reprint or use of this image is strictly prohibited.
We create products with the idea of giving you the gift of something beautiful. Whether that gift is for you or someone else, what went into creating it was thoughtfulness, time and creative effort.
All of our products are processed and shipped within 3-7 business days.
Buy it with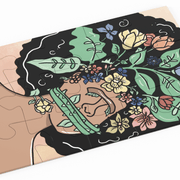 Share
Sis, You Deserve
To see yourself represented in the world
To surround yourself with art that encourages your belief in self
The gift of something beautiful.
- jaha Knight